Caving trip  –  a dramatic and different adventure!
Pay a visit to pure nature in the Setergrotta cave. One of the largest and most exciting caves in Norway –   shaped by nature through more than 500.000 years.
Inside the cave you will experience potholes, huge chambers, limestone formations, marble passages and an underground river.
This is very different from what you experience outdoors. The cave has no well-prepared paths or handrails  –  this is pure nature. You will always remember you visit to Setergrotta!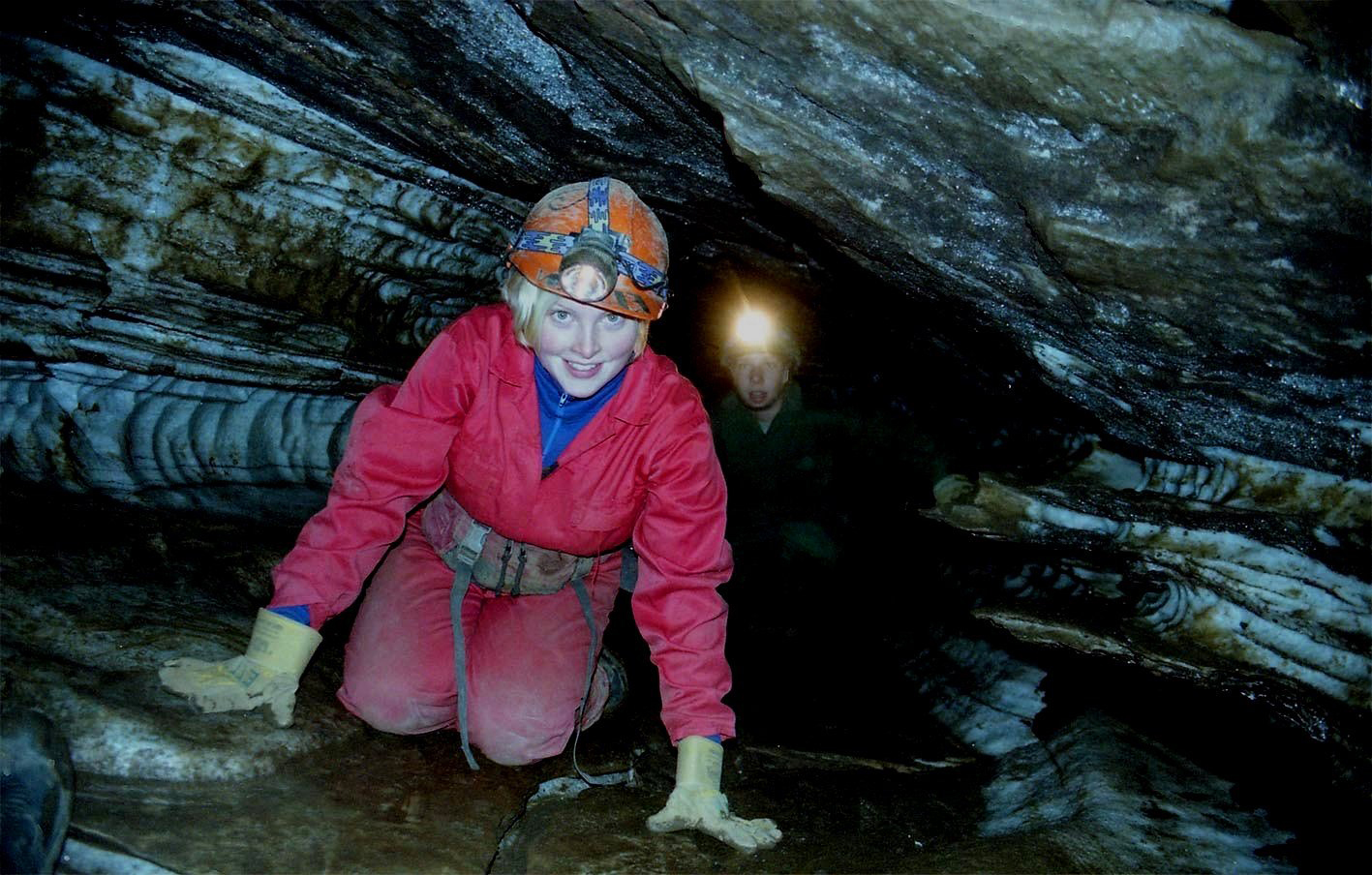 Guided tours
Guiding can be arranged outside the summer season, minimum charge per trip is NOK 1.000.-
Guiding 2020: Every day from June 27th to August 9th at 15.00. Extra trip every day in July at 11.30.
Prices: adults NOK 350.- per person, children up to, including 12 years NOK 300.- per person.
You may pay cash or with a card.
Huge halls, an underground river and marble passages

The guide takes you for a 2-hour round trip in the cave. It begins by the kiosk at the parking lot where you get proper equipment for the trip (overall, gloves, helmet and headlight). Please bring good footwear – hiking boots are best but a sturdy running shoe will be fine. You have to walk for 500 m through the forest to the huge cave entrance named "The Giants Pot".
Sporty and exciting
Caving is physically challenging, but no experience is necessary. Anyone who hikes or cycles will enjoy this unique experience.The guides are well trained and share with you their knowledge. We promise you an informative and interesting trip!
Feedback from visitors

"Very nice trip indeed!"  –  Wojtek & Nikolai, Poland

"Really really cool trip! A very beautiful cave! Enjoyed it very much!"  –  Jacqueline, France

"Thank you very much for a great adventure!"  –  Fam. Pettersson, Finland

"A very pleasing and interesting visit" –  Nev + Carola, England

" Thank you very much for a fun tour!"  –  Diana Sherwood, USA

"Unbelievable! Was a lot of fun!" –  Cathy, Australia

"Enjoyed the adventure – good tour / excellent guide" –  Kim Soari, Wisconsin, USA

"Very good and interesting tour"  –  Linda & Hans, Belgium

"Thank you for the guiding – my trip to Europe wouldn't be the same without it"  –  Jenny Holmes, Canada

"An excellent adventure!"  –  Gordon Mattews, Newcastle

"It was the most exciting cave we have ever visited. You really felt like being in wild surroundings, not like a typical tourist-hole!" –  Maud & Kirsti, Estland